While it might seem like it, it's not easy to pick your first platform for trading. You have to think about a lot of factors and make sure that your first decision is the right one. This choice you make at the start of your trading career affects you for as long as you are trading. In fact, many traders quit trading as soon as they start because they choose the wrong platform. I have written this ZuluTrade review to help you avoid that situation. 
Also see – Trading Tools:
I want to tell you about this platform specifically because of how trustworthy it is. There are many factors that you can look at and say that they give you confidence in this platform. Let me talk about all of them in this detailed ZuluTrade review. 
Regulated Platform for All
Let's not forget that before you sign up with any online platform for the purpose of trading, you have to check its regulatory status. Regulation tells you how much you can trust the platform. A company that has started professionally and is serious about its business will always complete the regulatory formalities. If you want to check their regulatory status, you can do so right on their website. So, is ZuluTrade a regulated platform? Yes, it is a regulated platform and that tells you that you are signing up with a legitimate entity that you can trust with your money and information.
Let me tell you that its regulation is not limited to some unknown country. In fact, the platform is regulated in Japan and the EU. These are two important regions, and the regulation of the platform should give you trust in it to continue your trading career with it.
Carefully Ranked Traders
When someone tells you that you can be on their platform and follow other traders for your trades, the first thing that should come in your mind is how you can trust them. It is not easy to trust a platform and the traders on it if you don't know them. How can you be sure that they will make the right trading decisions and not put your money on the line for their experiments? Well, that's the problem that has been solved by ZuluTrade. It has created a system in which no information about the trader has been kept hidden from you. In fact, there is a way for you to know that they are real traders.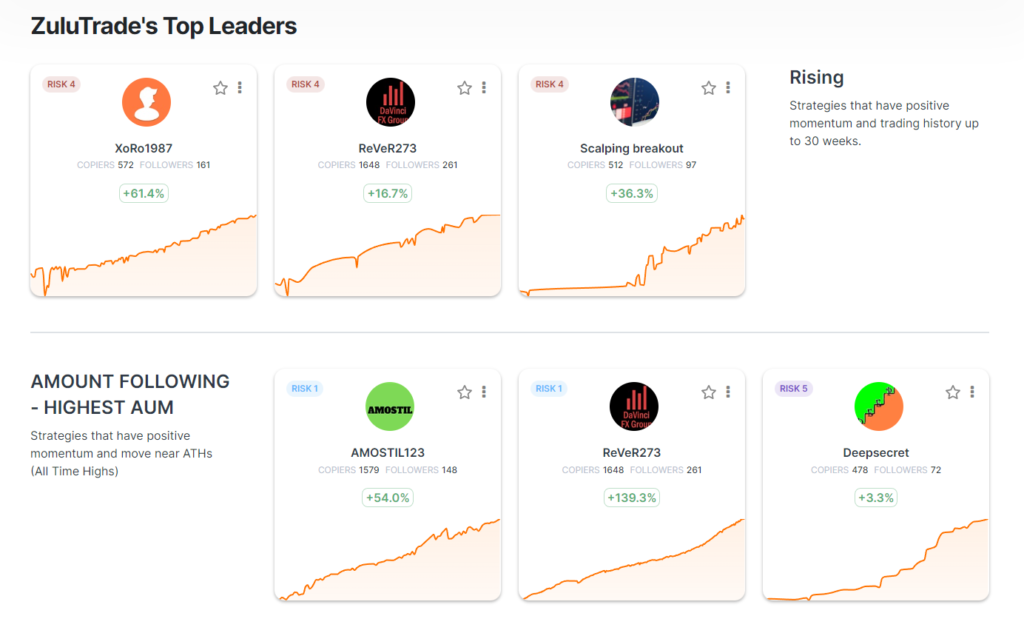 You will not be copying bots, and that is certain given that you can interact with those traders. They even introduce themselves before you start copying them. While copying, you can interact with them to learn about their trading strategies. The platform has also made sure that you can look at the data of all the traders even if you are not copying them, allowing you to pick and choose and even change when you wish to.
Reliable Trading Signals and Tools
The copy trading platform from ZuluTrade is used by many types of traders from around the world. You may be someone who is looking for a way to enter the cryptocurrency market. Perhaps, you are someone who has always wanted to trade stocks. Furthermore, it perfectly serves those who are looking forward to forex trading. Regardless of your trading background and preferences, it provides you with all the necessary tools for reliable trading. 
It gives you forex trading signals and signals for other assets. Furthermore, when you land on the platform, you have advanced charts, price charts, calculators, converters, news feeds, and other tools at your disposal for no added cost.
Final Thoughts
You can see that this platform gives you many reasons to trust it. From regulation to transparency in the presentation of trader data, ZuluTrade has come up as one of the most reliable platform for traders and investors. You can always visit its website to know more about it and how it differs from other platforms out there.